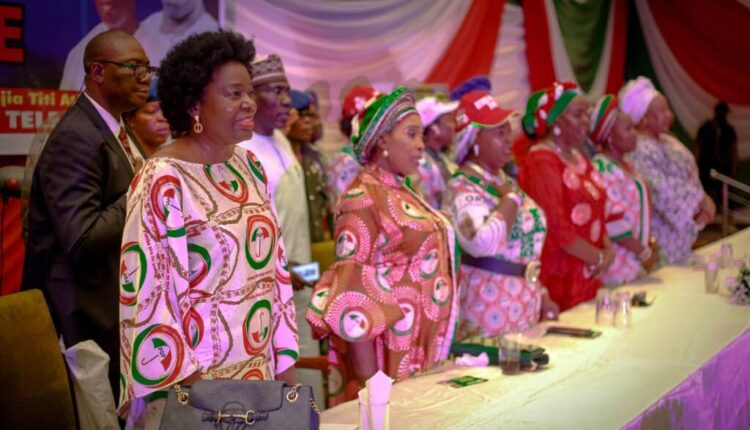 The Deputy Director General campaign Women council, (South) for the 2023 People's Democratic party's presidential candidate, Oloye Jumoke Akinjide, said women remain the bone of democracy in the country and liable to thirty five percent allocation in Atiku's administration.
Oloye Akinjide stated this at a press briefing held in honour of the presidential candidate's campaign held in Ibadan on Monday afternoon at the Oladapo Ogunlesi Hall, University College Hospital, (UCH), Ibadan.
Akinjide emphasized that women will be more heard and included in the government of Atiku Abubakar, noting that women cannot be downplayed in the growth and development of any nation's democracy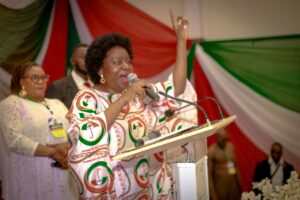 "As you know in the past, women have been the bedrocks of democracy. They are the ones that vote, have PVCs, we are telling them to vote for PDP. PDP appreciates women, and Atiku Abubakar has promised that he will give 35 percent inclusion of women in his administration especially on appointments.
"He will permit us to seat at the table of power, he has appointed a women campaign Council for the first time, what a good indication. All for independence of the women folk", Akinjide said.
Akinjide called on the women to adopt all People's Democratic party, PDP Candidates beginning with the presidential candidate, Alhaji Atiku Abubakar.
She added that Oyo state will never compromise the chances of PDP as Oyo State Governor, Seyi Makinde, is committed to Atiku's enthronement of presidency.
"You can see that Oyo is a PDP state, where we have the PDP governor, PDP House of Assembly, and we are also hoping that Oyo state will vote for Atiku and Makinde at the forthcoming elections.
"Now, we have been working very hard. Remember when we had our rally in Ibadan few days ago, all the PDP officials were there in unity with presidential candidate, which had the state chairman, Dayo Ogungbenro and state and national excos, the entire PDP Candidates at the national assemblies, to mean business for our candidates including Atiku Abubakar ", she added.
Meanwhile, Akinjide noted that Makinde remains solidly behind Atiku Abubakar as he officially granted site for campaign in Ibadan for the presidential candidate, then speaks unity of the party at all times he embarked on political rally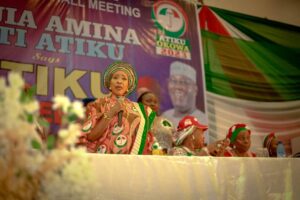 "Seyi Makinde was not at the presidential campaign in Ibadan few days ago, but that does mean he doesn't work for Atiku. You know what it means, he gave his assent for the party to unite behind the presidential candidate. And everywhere he goes for his campaign, he says people should please vote PDP for top to bottom. The party is highly united behind all the PDP candidates", she said.
Speaking, senator representing Ekiti South, Biodun Olujimi said only the PDP has ever brought succour to Nigerians since inauguration, adding that the time for total redemption of lost glory in the country is here, which will be realized through the PDP Presidential Candidate, Alhaji Atiku Abubakar.
" We believe the person we have picked to lead in person former vice-president, Atiku Abubakar as our candidate is a man who has treaded the path before, the man who where shoe pinches the most, a man who understands way out to woes in the country, he believes in indivisibility of Nigeria, he who believes in gender"
Olujimi said the administration of Atiku will give youth and women a voice
"Atiku believes in gender with the belief if elected; the man who believes the youth must have a voice in our country, with the belief if elected, the country will turn around for the better" she stated.
It would be recalled that, Titi Abubakar was in Ibadan for a southwest female town hall meeting, which was held at Theophilus Oladipupo Hall, Opposite UCH, Ibadan, Oyo state capital.
Atiku's wife eulogized the effort of women in electioneering and urged Southwest women to support her husband to become the nation's president.
In her speech, Titi Atiku explained her husband's position on restructuring, women empowerment, jobs for young women, care for the aged, security, food prices and food security, agriculture, poverty, and a host of others.